Real Time Asset Management With Barcode Scanning And Mobile Forms: Tour
Do you lease out equipment to the clients, or loan to company employees and have a hard time to keep track of what is where?
Losing valuable assets because of the lack of accountability?
If this is the case, QR Inventory Leased Assets Edition is a software for you.
Using QR Inventory, you will be able to keep track of assets and equipment in the office and in the field using regular smartphones for barcode scanning and data collection.

Track Assets In The Office And In The Field
Need to track assets in the field and on the client site?
Use regular smartphone or tablet for barcode scanning and data entry.
Need to record large volume of assets received in the office or returned from the lease?
You can use regular barcode scanner for faster entry / processing.

QR Code, Barcode, Or NFC Tags Scanning
Do your assets already have manufacturer barcode? You can use it to track assets, no additional labeling is required.
Assets are not labeled? No problem! Use QR Inventory to generate and print QR code labels, or use your own labels or labels supplied by us.
Need to process large volume transactions fast? QR Inventory supports NFC tags.

Customize QR Inventory To Fit Your Workflow
Customize multiple aspects of QR Inventory to fit your workflow.
Create custom transaction types, custom fields for assets and equipment, custom mobile forms to fill out during asset transactions, custom fields for client sites / locations, and more.

Access Asset Information In The Field
Need to access information on the asset or equipment in the field?
Just scan QR code or barcode label to get all information you need, from asset specifications to image(s) to instructions and manuals.
Users with admin access can update information in the field on their smartphones.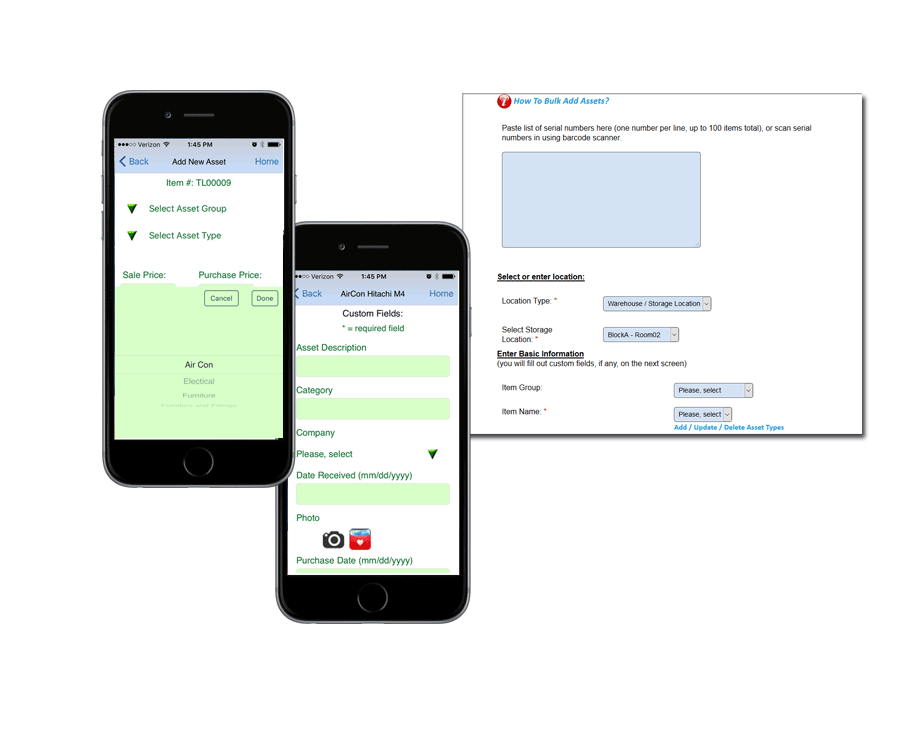 Assets Categorization & Entry
Categorize assets into defined asset types and groups that you can manage.
Bulk enter assets of the same type: enter asset information once, then scan in or paste all serial numbers.
Enter assets in the office or in the field using a smartphone.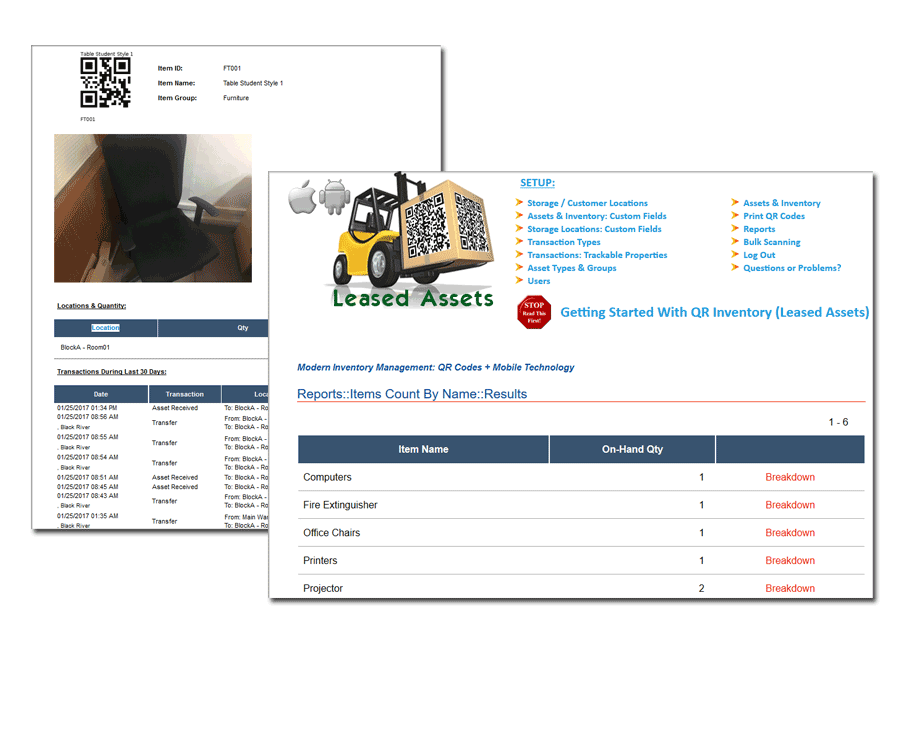 Assets Serialization & Inventory
Track entire life-cycle of each individual asset, from receival through leases and returns, repairs, to disposal.
Track assets inventory (how many total assets of the same type), how many are on hand and are available for leasing / loaning.
Set reorder point and receive automatic alerts when you need to order more.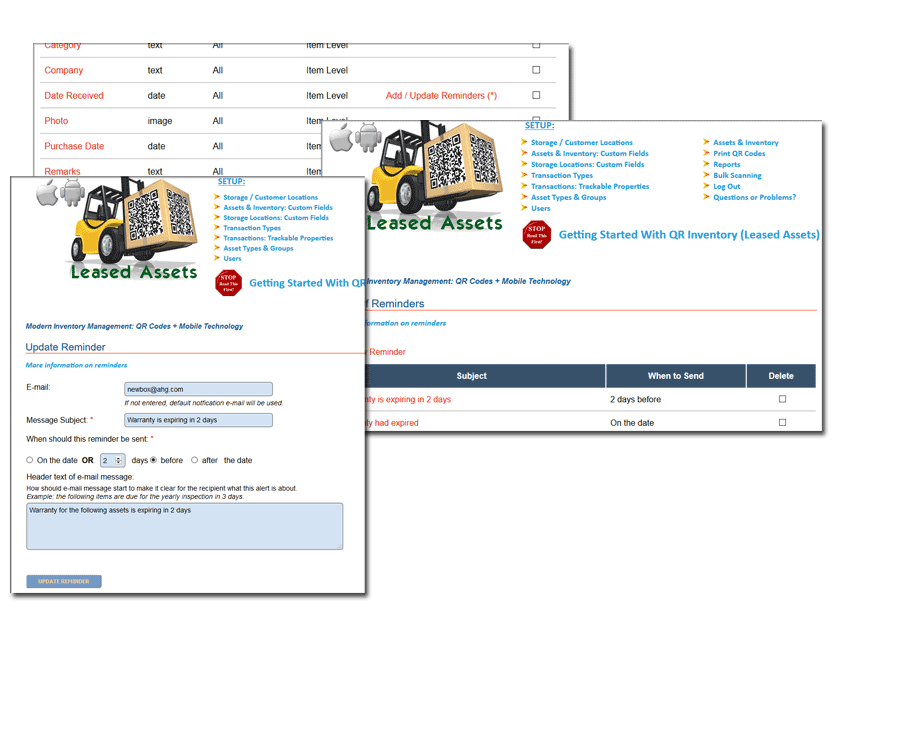 Custom Reminders For Important Dates
Don't forget an important date, such as asset warranty expiration or next preventive maintenance date.
Set custom reminders for the date fields, and receive automatic e-mail alerts.
Define when alerts should be send, how many, and to what e-mail address(es).

Generate And Print Packing Slips
Reduce paperwork and save time.
Automatically generate and print packing slip for asset transactions, such as shipping equipment to the client.

Assets Labeling And Entry
Don't know how to start organizing assets? QR Inventory makes it easy:
» If you have a data file, import it into QR Inventory.
» Have file in a specific format? During first 3 months we will import your data free of charge.
» Don't have a file? You can enter assets manually via the web interface, or label items and immediately scan them into the system using a smartphone.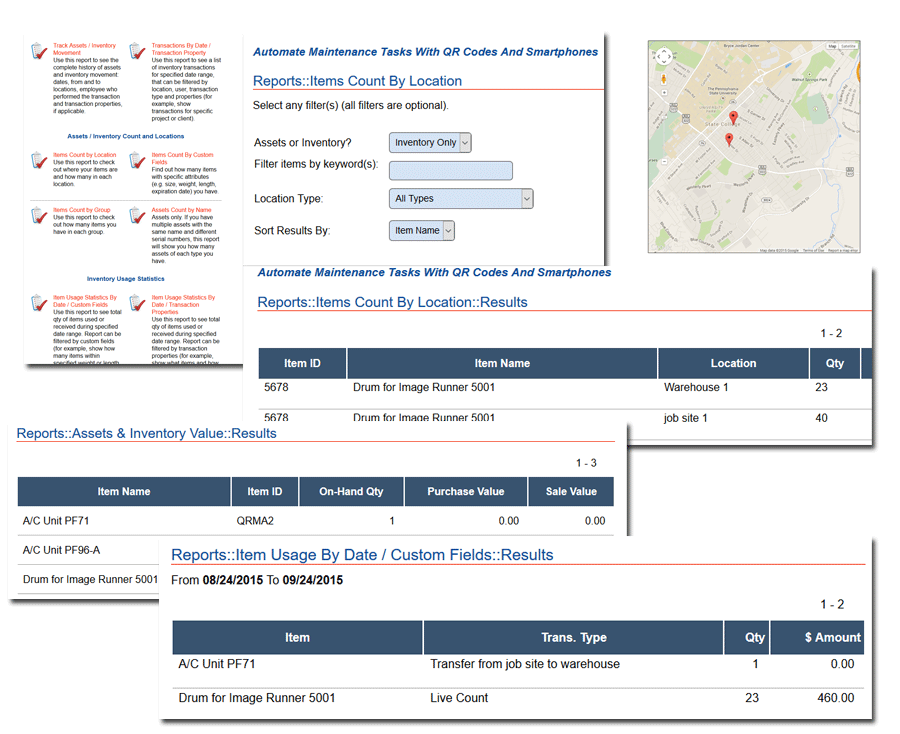 Real Time Assets Reporting
Access real time assets locations, asset life time history, assets inventory, usage statistics and more via a secure web dashboard.
Filter reports by custom fields you created to get exact information you need.
Export reports for outside processing.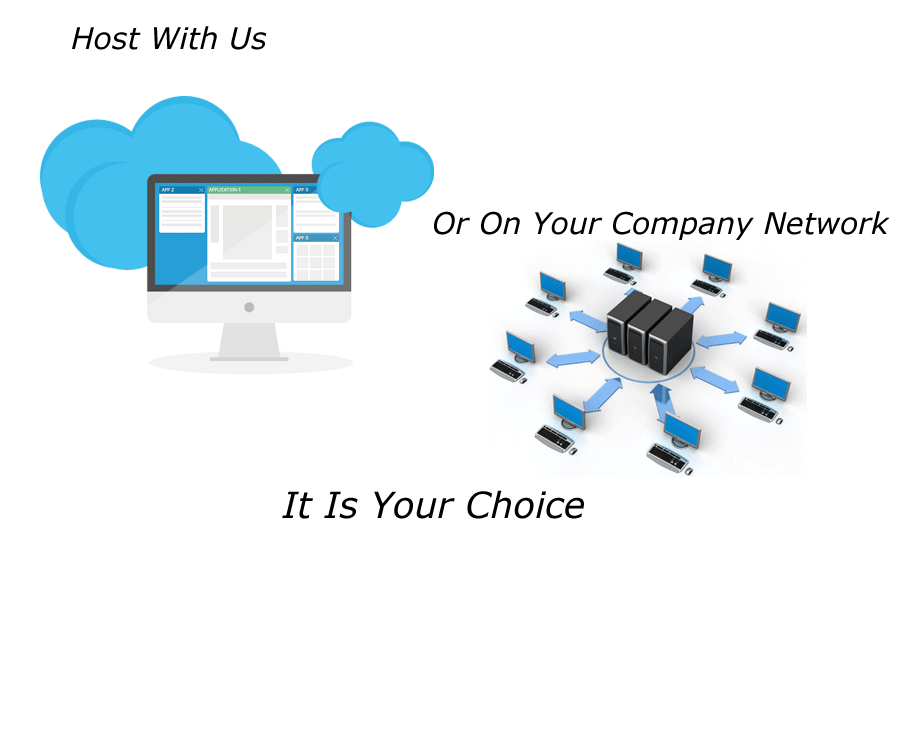 Flexible Hosting Options
Host with us and eliminate all headache connected to software maintenance: server administration, backups, updates. Get software updates and bug fixes automatically as they are released.
Prefer to self host? No problems! If you have a right server and qualified personnel, you can host QR Inventory on your network.