Fixed Assets Audits Using Smartphones And QR Code Scanning
Streamline asset audits using smartphones and QR Audit mobile application for barcode scanning and data entry. Use smartphones and barcode / QR code scanning to verify assets location, collect data and instantly submit scanned asset batches to a centralized cloud storage. Make sure your asset audits are efficient, fast and error-free.
Verify Assets Location With Barcode Scanning
Verify that all assets are in place by scanning assets QR code labels with a smartphone. The list of scanned assets is compared to the list of assets that should be in the assets audit location, and discrepancies report is created automatically.
Do company-wide asset audits, or asset audits in the selected locations / offices. Verify asset possession by employees.
Multiple employees can do asset audits at the same time using their own smartphones, speeding up the process.
Employees taking part in the asset audits see a running scanned assets batch in QR Audit mobile application, can review and correct assets batch before submitting to the cloud.
Employees can take part in a company wide asset audit, or do individual ad-hoc asset audits to account for the assets in their office or in their possession.
Control Asset Audits Schedule In QR Audit Software
Administrators control asset audits schedule via a QR Audit software web dashboard. Multiple scheduled asset audits can be performed at the same time by different employees.
As new asset audit is created, company employees will see it on their smartphones in the QR Audit mobile application. They can select an asset audit they are taking part in, and start scanning assets in the designated location.
Administrator closes asset audits via the QR Audit software web interface. When an asset audit is closed, QR Audit software produces a report of the scanned assets and discrepancies with the assets "on the books".
QR Audit software supports company wide asset audits with the participation of multiple employees, as well as ad hoc asset audits by individual employees. Ad hoc audits work will for the regular assets verification in the small spaces or in the employees possession.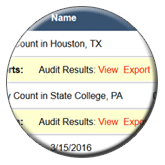 Asset Management Software Integration & Reports
After asset audit is completed, QR Audit software compares scanned assets with "on the books" assets and produces discrepancies report.
If you are using fixed asset audit as a stand-alone program (QR Audit) you can export asset list for comparison from your asset management software. If you are using it as a part of QR Inventory software, the current "on the books" list of assets is taken directly from the QR Inventory.
You can export asset audit results for importing into your asset management software, if applicable.
Get a detailed report on the asset audits: list of scanned assets in the audit location, raw data showing each submitted asset batch, date, time and an employee who submitted it, and assets discrepancies (missing or misplaced assets).
Get statistics on missing assets and monetary value of the loss for the selected time periods.
See It For Yourself - Mobile Asset & Inventory Tracking In Action