Streamline field assets inspections and audits with the QR Inventory software. Fill out digital mobile forms and checklists on a smartphone in QR Inventory mobile application. Submit completed assets inspections to the cloud in real time, access results from anywhere on demand.
Smartphones and field inspection mobile application help you streamline field assets audits and inspections, reduce errors and information loss, and improve information flow. Field assets inspections and audits are all about visiting multiple sites, collecting data and delivering them to a common data repository. Smartphones and tablets are the perfect tools for this job. They are convenient to carry around, and allow you to fill out an asset inspection form / checklist fast and without errors. Mobile digital inspection forms minimuzing manual entries, have internal data checks / verfication, and ensure that the collected asset data are not misplaced, damaged or lost.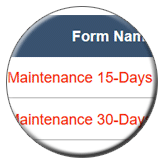 Create Custom Mobile Forms For The Field Assets Inspections And Audits
Create custom mobile forms and checklists for the field assets inspections via the QR Inventory web dashboard.
Mobile field assets inspection forms can include free entry fields, selection lists with pre-populated values, checkboxes, radio buttons, yes / no fields, scan in fields, auto-scan checklists, and images.
Fields employees will be able to complete assets inspection forms / checklists on a smartphone, attach images to the mobile form for visual documentation, and collect digital signatures.
Make mobile assets inspection forms dynamic. Create repeatable sections, and field employees will be able to add them to the mobile inspection forms / checklists on demand.
Link mobile inspection forms to the equipment / property / infrastructure group(s). When a field employee scans a QR code label on an asset or property, (s)he will get a correct inspection form for the scanned object.
Use A Smartphone And A Mobile Application To Complete Field Assets Inspections
Field technicians scan a QR code with a smartphone to uniquely identify an asset to be inspected. A QR code scan provides an access to the asset documentation and data, and a correct asset inspection form / checklist to fill out.
Field technicians complete asset inspection form / checklist on a smartphone in the QR Inventory mobile application. Completed sections of the assets inspection form are automatically saved. Field inspectors can stop and resume asset inspection at any time, and collected data are never lost.
Mobile asset inspection forms allow for adding dynamic form sections on the fly, scan in and selection fields for the faster inspection completion, ability to add images taken with a smartphone camera, and collect digital signatures on a smartphone. Here is more information on the dynamic mobile forms capabilities for the assets inspection.
Completed asset inspection form or checklist is submitted and stored in a secure cloud. Results of the field assets inspections and audits are available to all authorized employees in real time, on the mobile devices in the field and computers in the office.
GPS location of an asset audit or inspection is automatically captured and can be viewed on a map.
A field inspector can create a custom asset inspection report in the PDF format on the smartphone in QR Inventory mobile application. An asset inspection report can includes collected data, captured photos and a signature.
A field technician can view asset inspection report on a smartphone, print report and / or e-mail it to the specified email addresses.
You can control the look and layout of the asset inspection reports, what information is included and your company branding via the custom MS Word templates.
Field Assets Inspections And Audit Reports
Completed field assets inspections and audits are stored as digital records in a secure cloud. Assets inspection reports are accessible on demand by the authorized personnel, are easily searchable, and are never misplaced or lost.
You can search submitted field assets inspections and audits by multiple parameters to find what you need fast. Search reports by dates, asset, location, an inspector, and inspection results.
Export assets inspection reports into .csv file for sharing or importing into another software.
Create custom-formatted asset inspection report in pdf format. E-mail asset inspection report to all interested parties - customers, external auditors, internally within the company.