Use a mobile application and QR Codes for produce lot number tracking from picking / receiving to shipment. Store collected produce traceability documentation in a secure cloud for easy searching and on demand access. Achieve end-to-end traceability without physical paperwork.
Track produce lot numbers through the entire process, from picking / receiving to the client shipment with a smartphone and barcode / QR code scanning
Collect all required data on each produce batch on a smartphone using custom mobile forms
Do produce tracking and data collection on site efficiently without distractiong employees from the main job
Use smartphones for the lot numbers scanning, data entry and look up in the field or on the shop floor
Produce traceability records collected on a smartphone in the QR Inventory mobile application are sent to a secure cloud in real time
Authorized employees has live access to the produce in the process and historical produce data
Quick access to the lot information, production history and distribution locations in case of a problem or recall
Improve your produce processing business operations using customizable reports and data analytics
Real Time Produce Lot Numbers Tracking With A Smartphone
Track produce lot numbers through the entire production process using a smartphone for barcode scanning, data entry and look up.
Collect required produce traceability data as the produce lot moves through the production steps.
Define what information to collect via the intuitive QR Inventory software web interface.
Create custom mobile forms that company employees will be able to download on their mobile devices (smartphones or tablets) and use for on site produce traceability data collection.
Produce traceability data collected in the QR Inventory mobile application are sent to a secure centralized cloud location and are available to the authorized QR Inventory system users in real time.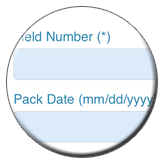 Produce Traceability
Trace each produce lot number back to its source. Scan a lot number QR code to review and update a produce lot details.
Track lot numbers of the ingredients that go into the intermediate and final products. Use QR code / barcode scanning to eliminate entry errors, and smartphone as a scanner.
Quickly find common ingredients / production process details of the affected products in case of a problem. Use this information to pinpoint a cause of a problem and locate other products that may be affected.
Find lot numbers that could be affected by the problem and where these products where distributed to issue a recall. Use QR Inventory software produce traceability reports to limit the scope of recall only to the affected products.
Maintain accurate records of the entire produce processing process, find required produce traceablity information fast using multiple search filters.
Track Produce Stock In Multiple Locations
Track produce inventory stock in the multiple field, storage and produce processing locations using a smartphone.
Get an accurate, real time picture of the produce stock. Set up low inventory alerts to make sure you do not run out of ingredients.
Keep track of the expiration dates and make sure you are processing produce with the closest expiration date first.
Get produce receiving and usage statistics, monetary value of the produce inventory stock and produce transactions.