Stocktaking & Physical Inventory Count Software With Barcode Scanning & Smartphone
Physical inventory counts can become a nightmare when done manually. QR Inventory will help you do stocktaking in a matter of minutes or hours rather than days, receive accurate results and make sure collected information is not misplaced or lost. Use smartphones as barcode scanners and data entry tools, send collected information directly to a centralized cloud location.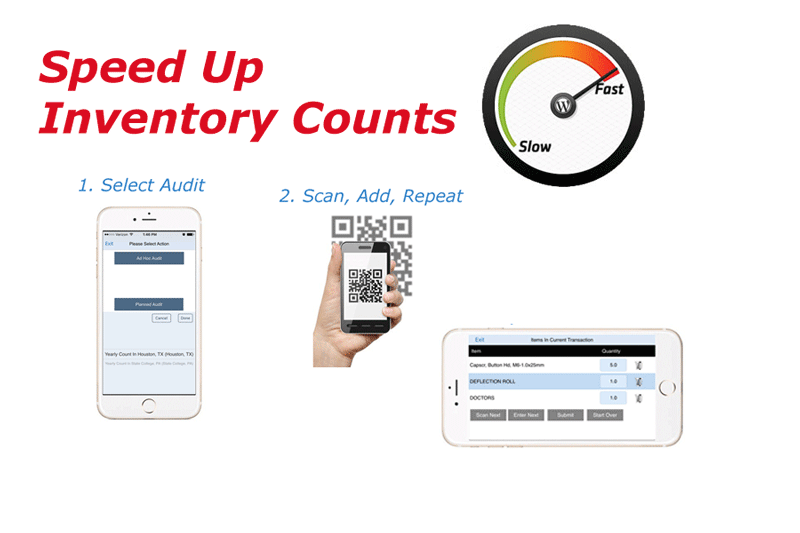 Use Smartphone For Taking Stock & Physical Inventory Count
Significantly reduce stocktaking time and improve accuracy! Take stock / do physical inventory count by scanning barcode or QR code labels on inventory with a smartphone.
Multiple employees can do stocktaking / inventory count at the same time in different parts of the warehouse, speeding up the process.
As an employee scans inventory, (s)he sees a running batch on a smartphone screen, can review and correct it before submitting to the server.
All scanned data are saved on the smartphone until submitted to the cloud - an employee can stop / resume at any time. No lost or misplaced information.
Scanned data are stored in a secure cloud. Authorized personnel can access real time reports on audit progress via a web based interface from anywhere.
Complete Control Of Inventory Count Schedule
Administrators have a complete control of inventory count schedule via a web dashboard.
Define when inventory count should start and end, in what location it is going to be performed, and whether it is a complete or cycle count.
Select which inventory groups should be counted for the cycle counts.
Need to do a small count by one employee? No problems - authorized employees can create ad-hoc audits right on their smartphone, complete a count and submit to the server.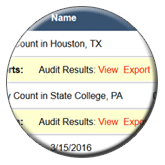 Inventory Management Integration & Reports
After inventory count is completed, a system compares reported inventory with "on the books" inventory count and produces discrepancies report (list of missing or extra items).
If you are using physical inventory count portion as a stand-alone program (QR Audit) you can export inventory count from your inventory management or ERP software. If you are using it as a part of QR Inventory software, the current "on the books" inventory count is already there.
If there are discrepancies, you have an option to adjust current inventory level using physical count results. As inventory level is adjusted, corresponding inventory transactions are created, so you always have a complete accountability.
Export physical count or stock taking results for importing into your inventory management software, if applicable.
Get a detailed report on physical count results: list of items in the count location, raw data showing each submitted batch, date, time and an employee who submitted it, and discrepancies (missing or extra items).
Get statistics on missing inventory and monetary value of the loss for selected time periods.
See It For Yourself - Workflow Tracking & Traceability With Mobile Devices