Integrated QR Inventory - Intacct solution lets you automate transition from inventory transactions to financial transactions. With QR Inventory, you can track inventory wherever you are (in the field, warehouse, shop floor) using QR codes and smartphones, and tie these transactions to your accounting / financials via Intacct.
Combine QR Inventory's mobility and flexibility in record-keeping and reporting with solid financial foundation of Intacct.
Intacct Inventory & Stock Sync
Import Intacct inventory items and warehouses into QR Inventory with one click. The process will add new Intacct items, and update Intacct items which are already managed by QR Inventory.
Inventory transactions that you perform using QR Inventory mobile app update Intacct inventory in real time, so inventory count stays synchronized between QR Inventory and Intacct. If you also perform manual inventory transactions in Intacct, you can easily push changes to QR Inventory with just one click, or schedule automatic daily reconciliation.
Link QR Inventory & Intacct Transactions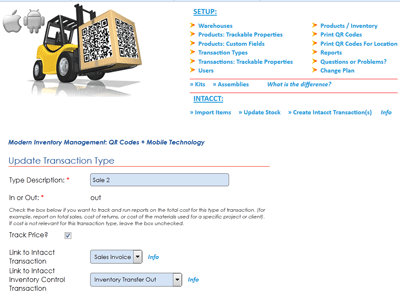 QR Inventory lets YOU decide how to link QR Inventory and Intacct transactions. When creating transaction type in QR Inventory, you can:
Link it to Intacct Inventory Control transaction (if you have Inventory Control module). If you do, transaction is posted to Intacct automatically.
Link it to Intacct Purchase or Order Management transaction. If you do, you will be able to automate creation of Purchase And Order Management transactions (PO Receiver, Sales Invoice, Sales Return, Shipper) in Intacct based on QR Inventory records.
Automate Purchase Order Creation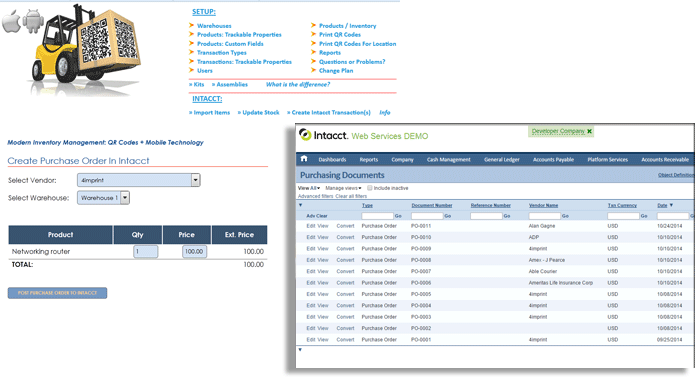 Create Purchase Order in Intacct from Items Below Re-Order Point report in just a few steps:
Select items that you want to include in PO
Select vendor and warehouse
Enter desired order quantity
Post to Intacct
Automate Purchase and Order Management Transactions
Some inventory transactions that you process with QR Inventory mobile application have direct financial transaction counterpart. For example, when you take inventory for a project, you scan items out using QR Inventory mobile app, specify which project you are taking them for - and transaction is recorded, your inventory count is updated. You can take items for this specific project several times, and at some point you need to invoice your client and update corresponding GL accounts. That's where integrated QR Inventory - Intacct comes into play. You can generate Sales Invoice in Intacct in a couple of simple steps:
Select which transaction type you want to post to Intacct (e.g. Taken for a Project). Optionally select other filters (date range, project, client, etc.)
From the list of matching transactions select items you want to include in Sales Invoice
Optionally add non-inventory items from Intacct (e.g. billable hours)
Select customer, enter due date
Post Sales Invoice to Intacct
Depending on your Intacct configuration, lower level financial transactions are created automatically (e.g. post to Account Receivable, update GL accounts)
Similar procedures work for other Intacct transactions, such as PO Receiver, Shipper, Sales Return.
Scan QR Code - Post to Both QR Inventory & Intacct
If you have Intacct Inventory Control module, you can take advantage of QR Inventory ability to process inventory transactions fast and error-free from anywhere with a smartphone, and have inventory updated both in QR Inventory AND Intacct in real time. All you need to do is link QR Inventory and Intacct inventory control transactions. After you have done this, Intacct transaction is posted automatically when you process corresponding QR Inventory transaction.