QR Code Inventory Labels & Asset Tags: Heavy-Duty, Durable
We provide complete solution for your inventory labeling / asset tagging needs: QR codes generation from the variety of data formats, labels layout and printing, manufacturing of durable asset tags, QR code software for dynamic data access.
On Demand Inventory Labels and Asset Tags Production

No project is too small - whether you want 10 tags or 10,000 we can accommodate your needs.

QR Code Generation From Variable Data

You can create QR codes for variable data, for example use serial number or unique product URL within the code (and also print it on the label if needed).

Variety Of Data Formats

We accept any data format that you will supply, including:


•

List of data to be encoded


•

Delimeted text file or xml file with data to be encoded


•

Sequential numbers with a given pattern (e.g. BNG000001 to BNG000100)


•

png or jpeg images of QR codes


•

Data files: we can combine or alter fields from supplied file to produce data to be encoded


•

Custom - let us know what data you have, and there is a good chance we will be able to work with it


QR Code Labels In Variety Of Materials & Sizes

Select size and material which is right for your project:


•

Regular paper sticky labels, white or color


•

Durable, weather-proof sticky white labels


•

Durable, weather-proof sticky clear labels


•

Tags laminated in plastic, 3mil, 5mil or 10 mil


•

Size from 0.75 inch in and up - let us know what you need


QR Code Dynamic Data Access - Software and Services

Use our dynamic QR code service to control what user sees when (s)he scans QR code on the tag or label via the web interface. No need to reprint labels and re-label assets and equipment to change information which is displayed to the user.
Have a question or need a quote? Contact us or fill out a form on the right.
Want to take assets and inventory under control?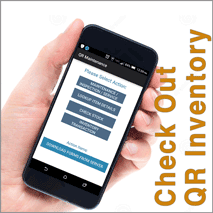 Want to optimize asset maintenance using mobile forms, QR codes and smartphones?