Small Business Mobile Inventory Software With QR Code / Barcode Scanning
QR Inventory Software Is Designed For Small & Medium Sized Businesses With Non-Retail Business Model
QR Inventory
is well suited for non-retail businesses who need to track assets and inventory accross multiple locations(warehouses, job sites, client locations, service vans or employees). Some examples include tracking equipment, tools, parts and supplies for
construction and field service companies
, tracking IT and office assets, managing raw materials and finished goods for
manufacturers
, tracking lab samples, medical supplies and equipment, monitoring rentals and returns, and much more. Using
QR Inventory mobile application
your employees can easily record assets and inventory transfer, usage, check out, returns, etc. by scanning QR code or barcode on the label with a smartphone. They can do it anywhere where inventory transaction takes place at the time it happens: in the field, in the warehouse, on the job site, on the factory floor - and results of the transaction are immediately available to all authorized users of the system.
Online Inventory Management Software With Mobile Support
QR Inventory is an online asset and inventory tracking software that you can run from anywhere, on the computer or tablet, using a web browser. All authorized users of the system have real time access to the company's asset information and inventory stock. You will use web interface to manage assets and inventory, create custom fields and properties to adjust QR Inventory software to your business, manage warehouse(s) / inventory storage locations, generate and print QR codes and run reports. QR Inventory mobile application (available for Android and iOS) is designed to replace barcode scanners / PDAs / mobile computers. Your employees will use it to process inventory transactions and look up asset and inventory details by scanning QR code / barcode on the asset or inventory label. Mobile application will save you thousands of dollars on purchasing hardware and connecting it to your network.
Customizable Mobile Forms For Asset, Inventory Tracking
Your business is unique, and so is the way of tracking inventory and assets. That's why QR Inventory software allows you to completely customize what do you want to track, record and report via the web interface. Create custom transaction types, that can be anything you need to accurately reflect your business process: restocking, sale, transfer to a different location, take inventory out for a project, return unused inventory, check asset in or out, send to repair, discard damaged item, etc., etc. Define what do you want to track during asset and inventory transaction. It can be project number, job number, client, due date or anything else. Create these custom transaction properties via the web interface, and they will appear in the mobile application for the employees to fill out. Your employees can take photos and attach them to the inventory transaction, collect digital signatures, create, print and e-mail pdf documents - all using a regular smartphone with QR Inventory mobile application installed.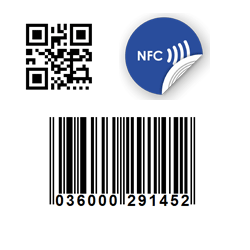 QR Inventory Supports QR Codes, Barcodes & NFC Tags
You can use QR codes, regular UPC barcodes and / or NFC tags with QR Inventory software, or mix and match all of them. If you already have manufacturer's barcode or QR code on the assets or products - you can use it and not do any additional labeling. If your assets or inventory items are not labeled, QR Inventory provides a built-in online tool that you can use to generate, layout, bulk download and print QR code labels. Finally, you can use NFC tags for faster inventory processing. NFC tags can be scanned at a much faster rate than QR codes or barcodes. If you have high volume assets or inventory transactions to process NFC tags will save you significant time and money.
Your Employees Can Access Critical Information In The Field
There are a lot of different types of assets and inventory, ranging from specialized equipment and infrastructure to bolts and nuts and anything in between. That's why QR Inventory software allows you to create custom fields to hold all required information on your assets and inventory, including images and pdf documents. Your employees can access necessary asset information in the field: specifications, manuals, images & drawings, operating procedures, recent repairs and maintenance, etc. - by scanning QR code label on the asset with a smartphone.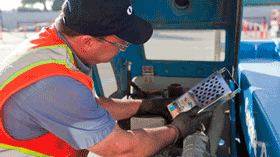 Collect Data, Track Business Operations Using Mobile Devices
Inventory management and asset tracking often go hand-in-hand with the mobile data collection and business operations tracking requirements. You may need to track
equipment maintenance and service
, submit reports on assets conditions, damage reports or service requests, take meter readings, and do multiple other operations that require data collection in the field. QR Inventory allows you to do all of these, and more using custom mobile forms that you create via an admin web dashboard. Make separate forms, or link them together using
custom workflows.
If you need to perform repeated tasks as part of your business opeartions, QR Inventory workflow management will significantly improve your business efficiency and productivity. Your employees will be able to review instructions, record what was done, and move the project to the next step - all from their mobile devices.
Flexible Hosting Options, Customization, Integration
SaaS software provides a lot of benefits - you do not have to deal with server maintenance, backups and security and you always have most recent software version. However, sometimes outside software hosting is not an option. We realize it, and we are flexible. You can subscribe to QR Inventory software as a SaaS solution hosted on our server, or you can outright purchase QR Inventory and host it on your company's network. No matter how flexible software is, you still may have unique requirements that no out-of-the-box inventory software packages fulfill. We understand that software needs to be adjusted to your business model, not the other way around. Therefore, if you have unique requirements we will customize QR Inventory for you to make it a perfect fit. Customization may include integration with your internal systems, such as accounting software or ERP.