What Are IoT Gateways And Why Do We Need One?
IoT gateway is a bridge between the local IoT devices, such as sensors or BLE beacons, and a cloud server. An IoT gateway serves as a central hub, collecting data from the multiple sensors and / or BLE beacons within the gateway range (usually around 100 - 300 meters), and transfering the data to the backend cloud software for the processing and reporting.
IoT gateways communicate with the local IoT devices using short range communication protocols (such as Bluetooth, Zigbee, Thread), process data and send them to the cloud using internet communication protocols, such as HTTP/HTTPS or MQTT. An IoT gateway can support one or several protocols on both ends.
What Is IoT Edge Gateway
IoT edge gateway has a capability to process the data it receives from the IoT devices and sensors locally before sending data to the cloud. Edge gateways eliminate redundant information, aggregate data, and send data to the cloud in batches based on the specified rules. IoT edge gateways decrease the load on the cloud server by taking on the initial data processing, that reduces the volume and frequency of the data transmission to the remote cloud server.
IoT edge gateways should support setting of the rules that define how to process the data from the local IoT devices and sensors, and how frequently the data should be sent to the cloud.
Bluetooth IoT Edge Gateway - Specifications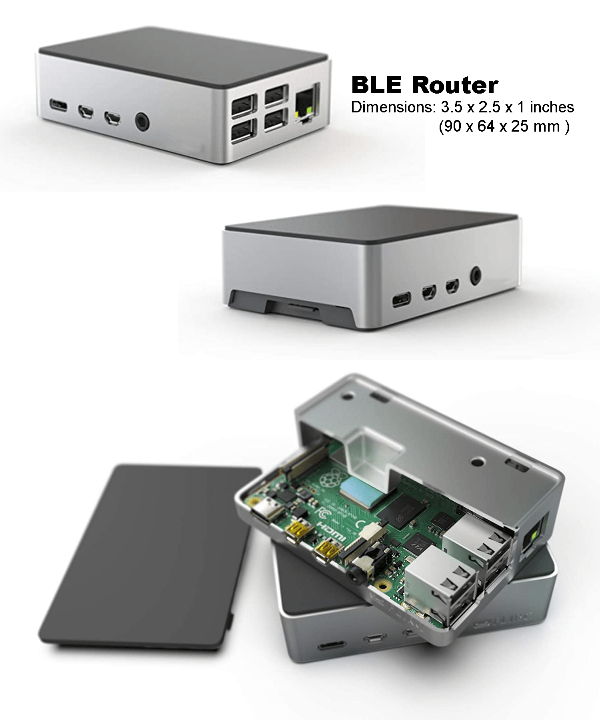 Communication protocol: Bluetooth 5.0
Internet connection: WiFi
Power supply: 5V DC
Waterproof: optional
Operating temperature: 0 - 60 degrees celsius
Dimensions: 90 mm x 64 mm x 25 mm
Configuration: via the browser
Supports BLE beacon tags in iBeacon format, temperature and humidity sensor advertising in customized Eddystone format
Custom programming is available to support customer IoT devices in broadcasting and connectable modes
Connect to our cloud software or yours
Configurable alerts for assets geofencing, temperature and humidity out of range
Configurable BLE beacon scanning distance (within maximum scanning range)
Configurable rules for edge data processing
Configurable timing
A Bluetooth IoT System: BLE beacons and sensors, Bluetooth to WiFi Internet Gateway And A Cloud Software
AHG provides a complete IoT platform for automated asset and inventory tracking, remotely monitoring assets and inventory conditions and WIP / production process tracking.
The system consists of the BLE beacons and / or bluetooth temperature and humidity sensors, a BLE edge gateway(s) and a cloud software. Using the Bluetooth IoT Inventory system you can:
Monitor real time assets location. Place BLE beacon tags on the assets and inventory, and the BLE IoT gateways will collect the data. An edge IoT gateway will process BLE beacons data locally, determine when each asset arrived and left the area, and send data to the BLE Inventory cloud software in configurable time intervals. You get a report on the current assets location, how long an asset has been at each location and assets movement history.
Assets geofencing and theft prevention. Configure BLE gateway to immediately notify you if assets leave designated area or appear in the area where they are not supposed to be.
WIP inventory tracking / production process tracking. Automatic tracking of the manufacturing work orders as they go through the production process. Place bluetooth gateway at each production station, and BLE beacons on the work orders. A gateway automatically detects work orders at each station, and sends data to the backend cloud software. You get live reports on the status or the work orders currently in production, and the production history of the current and past manufacturing orders.
Temperature and humidity monitoring for assets and inventory. Install temperature and humidity sensors in the locations where sensitive assets and inventory can be stored, or in the areas where you need remote temperature and humidity monitoring. Receive a complete temperature / humidity log, and immediate alerts if the conditions are outside of the acceptable range. Create acceptable temperature and humidity range for the groups of assets and inventory, and receive alerts if an asset is moved in the area with the temperature or humidity outside of the acceptable range. Receive alerts based on the acceptable temperature and humidity range for the area, as well as for the asset and inventory groups.
Custom IoT Gateway Programming
Need a bluetooth IoT gateway for your custom project? We will do custom Bluetooth gateway programming to your specifications:


Make a Bluetooth IoT gateway to communicate with your IoT devices and BLE beacons, using broadcast advertising or BLE connection
Create custom BLE gateway configuration rules that you need
Send data from the local IoT sensors, BLE beacons or other IoT devices to your private cloud server, Azure or AWS cloud
Please
let us know
about your Bluetooth IoT project and how we can help.