Smart IoT Asset & Inventory Tracking Software Based On Bluetooth Technology
Bluetooth low energy (BLE) IoT technology takes asset tracking and inventory management automation to the next level. Use BLE beacon tags, a smartphone or a Bluetooth gateway, and a QR Inventory cloud software for a completely automated asset tracking system. Process assets and inventory transactions in seconds in the QR Inventory mobile application, or use a Bluetooth gateway for automated assets monitoring.
How You Can Use Bluetooth Low Energy (BLE) For Smart Inventory And Asset Management
Bluetooth IoT technology gives you several ways of tracking assets and inventory. You can use BLE beacon tags for the fast bulk scanning with a smartphone application, or continuously monitor assets with a smartphone or Bluetooth gateway. Unlike other IoT asset tracking technologies (RFID, GPS) Bluetooth asset tracking requires minimal hardware purchases. You will be able to use smartphones or tablets running iOS or Android for the field inventory and asset tracking. A smartphone can play a role of a scannr or a gateway for the assets and inventory labeled with the BLE beacon tags. A mobile application will transfer data to the backend asset management software, eliminating a need for the gateways and special scanners.
How Does Bluetooth IoT Inventory And Asset Tracking Work
Bluetooth IoT asset tracking system relies on the BLE beacon tags to identify assets and inventory. BLE beacons broadcast an asset or inventory identifier, similarly to the RFID or NFC tags. An asset ID is picked up by the bluetooth gateway. That gateway can be a smartphone or a dedicated device. Bluetooth gateway passes asset identifier to the cloud asset management software for processing. BLE beacon tags have a scanning range of tens of meters. Therefore, you can scan all assets and inventory that need to be processed in one step, with one click of a button in the asset tracking mobile application.
Depending on your preferences, an asset tracking mobile application can either solicit input from the user, who can fill out all data relevant to the transaction, or automatically send an asset location to the cloud software without any extra data. The asset location can be determined using smartphone GPS service or using BLE beacons triangulation for the indoor assets.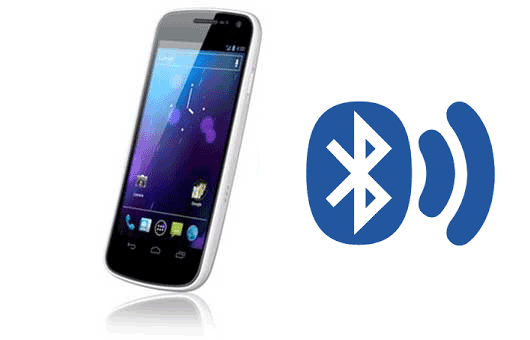 Bluetooth IoT Asset Tracking Options
Bluetooth low energy technology allows you to track asset and inventory in several ways. How you do it in your specific situation depends on several factors:


what exact information about the assets and inventory is important to you
whether you plan to track indoor assets within the building, outdoor assets on the job sites, or assets that are moving around and are not confined to a limited space
do you want a completely automatic asset tracking process or do you want employees to be involved
and last, but not least: what is your Bluetooth asset tracking software budget, and how much time are you willing to invest in the initial IoT hardware and software setup
Here are some of the available options for IoT asset and inventory tracking using Bluetooth technology:


Automatic asset location tracking using Bluetooth gateways. This is a method you might want to use if you need to automatically monitor assets tagged with the BLE beacons without any human participation. It is also the most expensive tracking method, both in terms of money and setup time. It requires an infrastructure of dedicated Bluetooth gateways that should have the capability to connect to the internet, either through WiFi or a cellular connection. This method also will only work either indoors or within limited outdoor space, such as a job site. Installation of the Bluetooth gateways on the job sites will be more involved. The gateways should be rugged, waterproof and be able to withstand hash outdoor conditions. You will also need Bluetooth gateways with the cellular connection capabilities, or have WiFi internet connection on a job site.
Automatic asset location tracking with a smartphone and a mobile application. With this method the only hardware you need is BLE beacon tags to label assets. Company employees who handle assets will need to have a smartphone in their pocket with the Bluetooth asset tracking mobile application running in the background. A mobile application will be scanning for the assets tagged with the BLE beacons, and send the GPS location of the found assets to the cloud software at preset time intervals (for example every 10 minutes). This method will only work outdoors, where GPS location is available. A QR Mobile Data software uses this method for tracking field assets and equipment.
Indoor assets location tracking with a smartphone. To determine the location of the smartphone inside the building you can use a network of fixed BLE beacons. In other respects, the asset tracking will work similarly to the previous case. Company employees will walk around with the smartphones in their pockets and an asset tracking mobile application running in the background. When a mobile application detects a signal from the asset BLE beacon tag it sends an asset identification and fixed BLE beacons information to the backend asset management software. An asset tracking software will process the data and determine an asset location inside the building using the triangulation method. The difference with the outdoor asset tracking is that an asset location is determined based on the fixed BLE beacons, not GPS.
Bulk scanning of the BLE beacon tags with a smartphone. All of the above Bluetooth asset tracking methods give you asset location, in geographic coordinates or on a building floor map, without any additional information or user input. However, in many situations it might not be exactly what you need. Instead, you may want to see asset location in terms of warehouse zone, a specific service vehicle, or a job site. You also may need additional input when assets or inventory are moved. You may want to see what type of inventory transaction was done - were assets and inventory received in the warehouse, taken to the service truck and / or a job site, returned from the job site, moved between the job sites, used for a project, delivered to the customer, etc. You also may need additional details for each transaction - a project number, a customer name, notes, a photo of an asset, etc.

If this is the case, bulk scanning of the BLE beacon tags with the smartphone by a company employee should be used. When assets and inventory are moved, an employee fills out all necessary data in the asset tracking mobile application and bulk scans all assets and inventory that need to be moved in one step. Fast bulk scanning is a key advantage of using Bluetooth (BLE beacon tags) vs QR codes or barcodes for asset and inventory tracking. With QR codes or barcodes each asset should be handled, an employee needs to find a label and scan it with a smartphone camera. With BLE beacon tags an employee just clicks a button in the asset tracking mobile app to add all assets and inventory on the pallet or in the truck to the transaction. With a large number of assets and inventory moving between locations the bulk scanning option available with the BLE beacon tags makes a huge difference in efficiency and productivity.

A QR Inventory software uses bulk scanning of BLE beacon tags for assets and inventory tracking, along with the QR code, barcode, or NFC tags scanning options.
How Do IoT Asset Tracking Methods Compare: Bluetooth vs GPS vs RFID
Which IoT asset tracking technology will work better for you depends on what exactly you are trying to achieve. Bluetooth technology gives you various asset and inventory tracking options - some of the options are comparible to RFID asset and inventory tracking, while other are comparible to GPS asset tracking.
If your goal is to do a fast, bulk scanning of assets and inventory for the processing of inventory transactions by the company employees, then you can use either BLE beacon tags or RFID tags, but not GPS. Bluetooth (BLE beacon) tags will work better for this purpose due to the simple fact that you can use regular smartphones and tablets for processing of the assets and inventory transactions. RFID, on the other hand, requires special readers which are quite expensive. Using smartphones will not only make the IoT asset tracking software less expensive, but will also make it easier for the company employees to adopt and use a new system.
If your goal is automatic asset tracking using fixed receivers / gateways, then Bluetooth low energy and RFID technologies are comparable. It will take about the same time and money to implement either Bluetooth or RFID automatic asset tracking system.
If your goal is to automatically track moving outdoor assets without the use of the fixed receivers or gateways, then you can use either Bluetooth or GPS technologies, but not RFID. Bluetooth technology will require BLE beacon tags on the assets and an employee with a smartphone. A smartphone should have an asset tracking mobile application running in the background. The smartphone with a running application will play the role of the Bluetooth gateway, scanning for the BLE beacon tags and sending information, along with the GPS location to the backend asset tracking software.
GPS tags are self-contained and do not require smartphones and human participation. They have a built-in cellular connection option to send GPS location of an asset to the cloud software automatically at the preset time intervals. Therefore, for the automatic tracking of the outdoor moving assets, GPS may work better. The drawback is that the GPS asset tracking software will cost much more than Bluetooth automatic asset tracking. GPS asset trackers are significantly more expensive than BLE beacon tags, plus you will have to pay a monthly fee for every single asset you plan to track using GPS technology. Therefore GPS tracking is suitable for a relatively small number of very valuable, expensive assets. For the work tools and small equipment Bluetooth option may work better.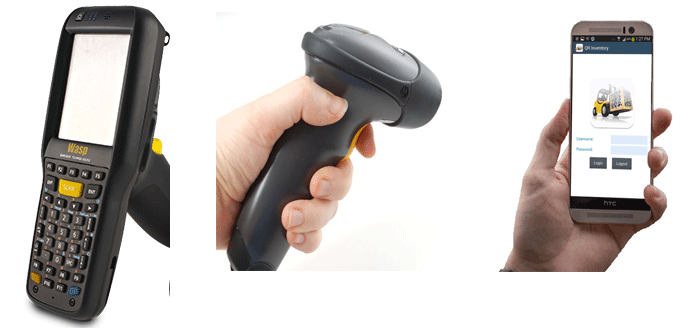 Bluetooth IoT Asset Tracking vs QR Codes or NFC
All three technologies (QR codes, NFC, and Bluetooth) allow company employees to track assets and inventory anywhere in real time with a smartphone. The scanning speed and degree of the asset and inventory tracking automation progressively increase from QR codes to NFC to Bluetooth.


QR codes or barcodes asset tracking. You need to locate a QR code label on each asset or inventory item and scan it with a smartphone.
NFC asset tracking. You need to scan each asset or inventory item, but you do not need to focus a smartphone camera for each scan. You just need to hold a smartphone within an inch of the NFC tag to scan the asset - so scanning is faster than with the QR codes.
Bluetooth asset tracking. With the BLE beacon tags you do not need to scan individual assets or inventory items. You can bulk scan everything on a pallet, skid, or in a truck just by clicking a button in the asset tracking mobile application. BLE beacon tags do not need to be visible and can be inside the packaging or casing.
The cost of the tags also increases in the same direction: from QR code labels (cents per label) to NFC tags (under a dollar for a tag) to BLE beacon tags (5+ dollars per tag). However, if you routinely move a high volume of assets and inventory between locations investing in the BLE beacon tags is well worth it. It will make inventory and asset tracking much easier and faster for the company employees.
QR Inventory Software: Smart Asset And Inventory Tracking Using Bluetooth (BLE Beacon) Tags
With the QR Inventory software field employees use a smartphone or tablet and a mobile application for the inventory and asset tracking and field data access. You can use any of the asset tracking tags: QR codes, NFC tags, or BLE beacons. You can also mix and match them. For example, you can use BLE beacon tags on assets and QR codes on the materials and supplies. Or you can tag pallets / skids with the BLE beacons, but track what is on the pallet using QR code scanning.
Regardless of which tags and technology you are using, field employees can use a QR Inventory mobile application and QR code, NFC, or Bluetooth (BLE beacons) tags scanning to do their job efficiently.


They can record assets and inventory transactions and submit data to the central database / backend cloud software in real time.
They can look up assets and inventory information: asset location, inventory stock, assets documentation and spec sheets, asset maintenance and service history, etc.
They can order materials, tools and equipment to the job site, and record deliveries in the mobile application.
They can fill out equipment maintenance, service and inspection forms, and other types of field paperwork using mobile forms.
QR Inventory software provides a seamless link between the field and the office. Office employees have a real-time view of inventory stock, asset location and movements on the office computers. Field employees have immediate access to the assets documentation, drawings, spec sheets, and location on the smartphones. Technicians on the job sites can submit materials, tools and equipment requests through the mobile application, and office employees have immediate access to the request. Mobile forms for recording equipment and tools inspections and maintenance can be passed between the field and the office, as well as between the mobile devices of the field technicians so that each employee fills out his or her part. Office employees can create field work orders and dispatch them to the technicians' smartphones for completion. The list goes on and on.
Bluetooth IoT technology makes the job of the field and warehouse employees faster and easier. It takes inventory and asset management automation to the next level. When moving pallets of inventory a company employee does not need to scan every single asset or inventory item to record the transaction. Instead, he just clicks a button in the mobile application - and all assets and inventory are added to the transaction at once. Bluetooth asset tracking will make a big difference for you if you are routinely moving large quantities of assets and inventory between locations. Some examples may include:


Construction: transfer of the work tools, equipment, and materials between the warehouse and the job sites
Manufacturing: keeping track of parts and materials for building complex on-demand assemblies, from receiving through staging areas to the assembly building
Warehousing: receiving and shipping out assets and inventory, moving inventory within the warehouse
Smart Asset Tracking With BLE Beacons: Business Use Cases
BLE Tags (BLE Beacons) For Asset And Inventory Tracking
Bluetooth asset tags are bluetooth low energy (BLE) beacons that broadcast asset identification number at the regular time intervals. The advertised asset ID is picked up by the Bluetooth receiver, which can be a smartphone, tablet, computer, or a dedicated Bluetooth gateway. The Bluetooth receiver can pick up BLE beacon advertising at a distance of tens of meters (the exact range depends on the specific BLE tag, and is often configurable). This ability gives Bluetooth asset tracking a big advantage as compared to the barcodes, QR codes, or even NFC. Instead of scanning each individual asset, you can bulk scan the whole pallet, skid, or truckload of assets and inventory with one click.

You can use BLE asset tags either for tracking assets by company employees using a smartphone and bulk asset scanning, or for the automatic asset location tracking with a smartphone or fixed Bluetooth gateways.

Physically BLE asset tag is a small lightweight plastic tag, round, square, or rectangular, an inch or two in width and length, and around half an inch or less thick. It is suitable for putting on the small equipment, tools, and other assets, as well as on or inside inventory bins, totes, or boxes. You can attach BLE tags to the assets with a zip tie or screws. Some BLE tags have adhesive on one surface that allows you to stick a tag to the asset. You can also put a BLE tag on or inside a box or bin for tracking small inventory items. Industrial grade BLE tags are rugged and waterproof and are suitable to use on the construction tools and equipment.

BLE tag consists of a chip and a small coin-size battery which usually lasts a year or more, and is sometimes replaceable. If the tag is configurable, you can usually configure advertising interval (how often BLE tag broadcasts asset ID, usually between 10 ms and 10 seconds or more) and Tx power - which is directly related to the distance at which BLE beacon signal can be picked up by a gateway. This configuration will affect the battery life span. A longer advertising interval makes BLE beacon tag less responsive but increases battery life. The same goes for the BLE signal range - if you decrease the distance at which BLE tag signal can be picked up by the gateway from 30 meters to 10 meters, for example, you can double the battery life span.