Inventory Management Software With Mobile Data Collection: QR Inventory Tour
Growing out of manual records or Excel?
Do you need to take assets and inventory under control, make it simple, accommodate your workflow without spending a fortune on inventory software?
QR Inventory might be the answer!
QR Inventory is a cloud based inventory management software with mobile inventory processing, data collection and look-up. It uses regular smartphones and tablets for barcode / QR code scanning, data entry and access - which allows you to track inventory in real time without purchasing expensive inventory management hardware.
Here is what you will be able to accomplish using QR Inventory:
Track Assets & Inventory Anywhere With A Smartphone
Have inventory in the field, job sites or warehouses without computers? No problem!
Use regular smartphone or tablet to track assets and inventory where they are located.
Use barcode scanning to eliminate manual entry and associated errors.
Save money on hardware: employees can use their own smartphones running iOS or Android instead of barcode scanners / mobile computers / PDAs
QR Code, Barcode, Or NFC Tags Scanning
Do your assets and inventory already have manufacturer barcode? You can use it to track items, no additional labeling is required.
Assets and inventory not labeled? No problem! Use QR Inventory to generate and print QR code labels, or use your own labels.
Need to process large volume transactions fast? QR Inventory supports NFC tags.

Track Asset & Inventory In Multiple Locations
Need to track assets and inventory in multiple locations?
QR Inventory covers all of them: warehouses, job sites, service vans, tool cribs, and even employees.
Check asset or inventory in, out, or transfer between locations with one scan.
GPS location of a transaction is automatically recorded and can be viewed on a map.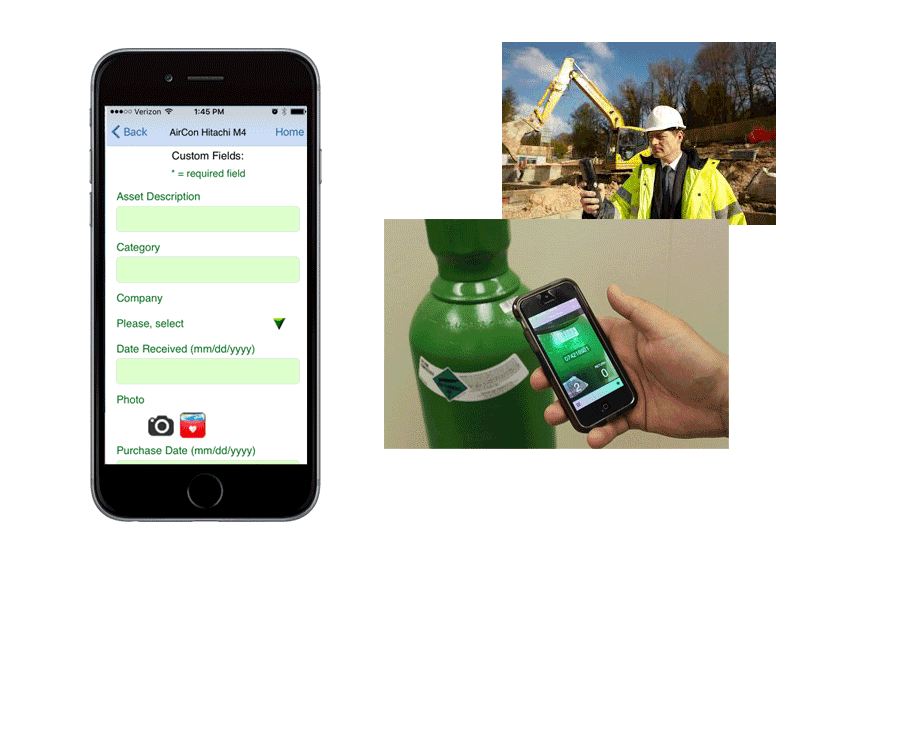 Use Smartphone For Inventory Scanning & Data Collection
Use smartphones or tablets running iOS or Android for inventory scanning, data collection and information look up.
Collected information may include data, photos taken with a smartphone for visual documentation and / or customer signature.
Save money on purchasing expensive barcode scanning hardware, and achieve better functionality.
Create Custom Transaction Types
Are you a field service business who needs to track assets and inventory between warehouses, job sites and service vans? Manufacturer? Rental / leasing business who needs to record rent-outs and returns? Need to assign assets to employees and track who has what? QR Inventory covers all business types! Using web interface, you can create your own custom transaction types that work for your business. These transaction types will appear in a smartphone application for employees to select from.
Create Custom Mobile Forms For Collecting Data (1)
Want to keep track of what project and/or client inventory is used for? Location of rented assets and when they are due back? Conditions of the item on check out and return? Sales channel for sold items? Anything that you need to keep track of is covered!
Define what you want to keep track of via the web interface, and these fields will appear in a smartphone application for employees to fill out.
Create Custom Mobile Forms For Collecting Data (2)
Need visual documentation? User can take photo(s) with a smartphone and attach to asset or inventory transaction.
Need to create custom inspections, maintenance, quality control forms? You can do this.
Capture customer or employee signature using a smartphone.
Submit collected data to the server, and updated information immediately becomes available to all authorized devices.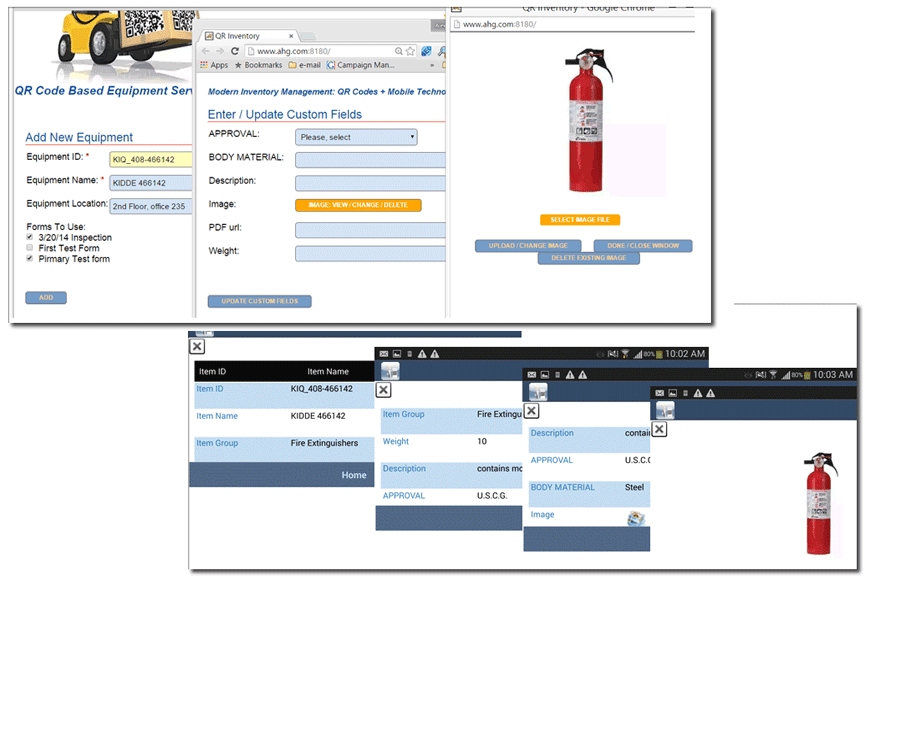 Custom Fields & Mobile Information Access
There are a lot of different types of assets and inventory - from electronics to construction tools, to bolts and nuts, and anything in between. That's why QR Inventory allows you to create custom fields to hold all required information on your assets and inventory, including images.
Authorized employees will be able to access this information in the field by scanning QR code label with a smartphone.
Manage Both Assets And Inventory
Assets and inventory require different treatment. Using QR Inventory, you can manage both. For assets, track an entire asset life-cycle, find real time assets location, who has them and what they are used for. Easily label and enter assets into the system using a smartphone, web interface or bulk import them from a file. For inventory, track stock, transactions and usage statistics. Access real time accurate inventory count from any authorized device, receive low inventory alerts.
Easy Initial Entry, Labeling
Don't know how to start organizing assets and inventory? QR Inventory makes it easy:
» If you have a data file, import it into QR Inventory.
» Bulk enter assets of the same type: fill out information once, then scan in or paste all serial numbers.
» Don't have a file? You can enter assets and inventory manually via the web interface, or label items and immediately scan them into the system using a smartphone.
Streamline Initial Inventory Count
Don't have a file with starting inventory stock, assets location? No need to do manual counts with paper and pencil, manually key in data. Label an item, scan it and enter location and quantity in one swipe. The whole process takes hours rather then days or weeks.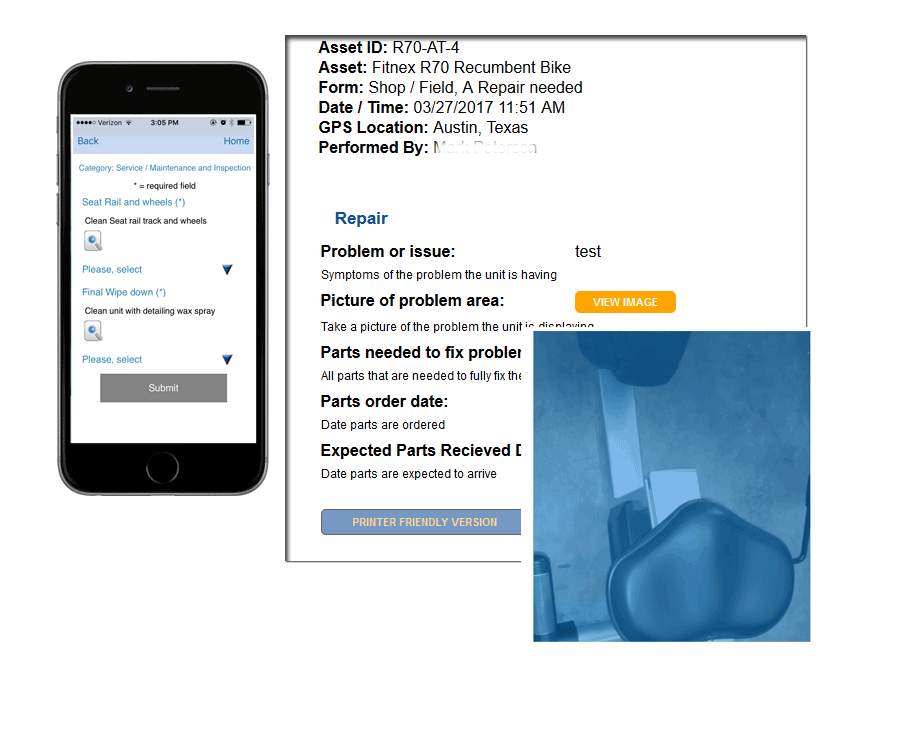 Process Tracking, Workflow And Traceability
Create custom workflows, attach mobile forms to document every production step on site.
Trace all materials that went into the finished product by batch / lot number.
Add all required information about each batch on site, using a smartphone and QR code scanning to avoid errors.
Access all information on the materials, data on the building process and documentation on quality control for each product you produced.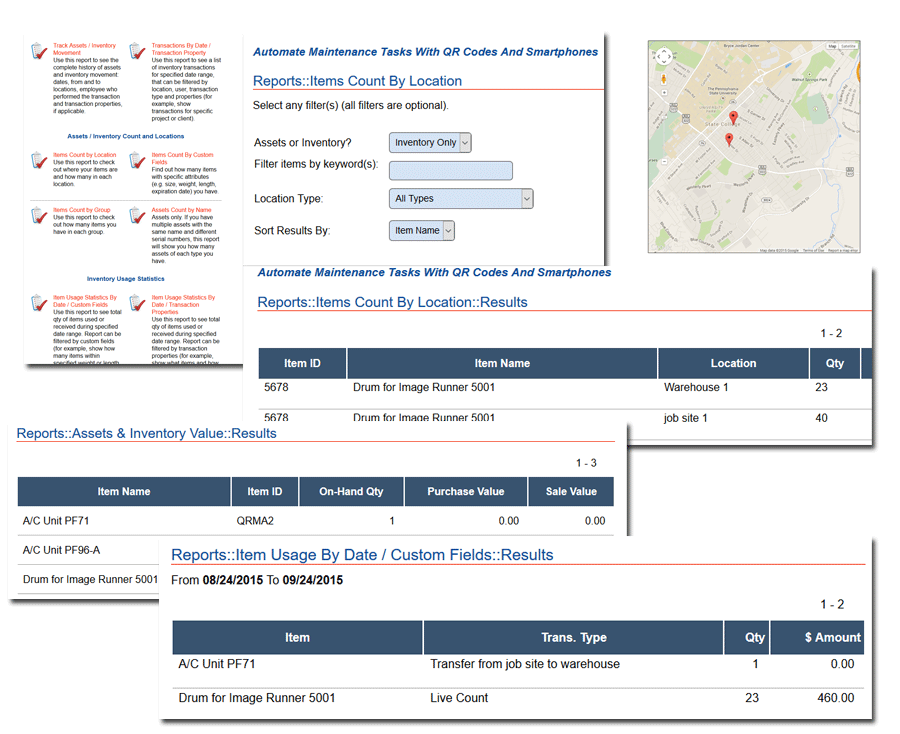 Reports
Review reports on real time inventory count, locations, transactions, usage, project status and progress from anywhere. Filter reports by various parameters, including custom properties that you created - producing all required information. GPS location of the transactions is recorded automatically, and can be viewed on the map.
Additional Functionality (Optional Modules)
Need more functionality? QR Inventory has modular structure: add modules as needed:
» Images, Photos & Signature
» Assemblies & Kits
» Service & Maintenance
» QR Code Based Ordering
» Purchase Orders & Invoicing

» Physical Inventory Count
» Assets Audit
» Leased Assets Edition
» Assets Reservations For Events
» ERP & Accounting Integration

Customization
Have specific requirements that are not covered by the standard program and modules? We will modify QR Inventory to fit your needs.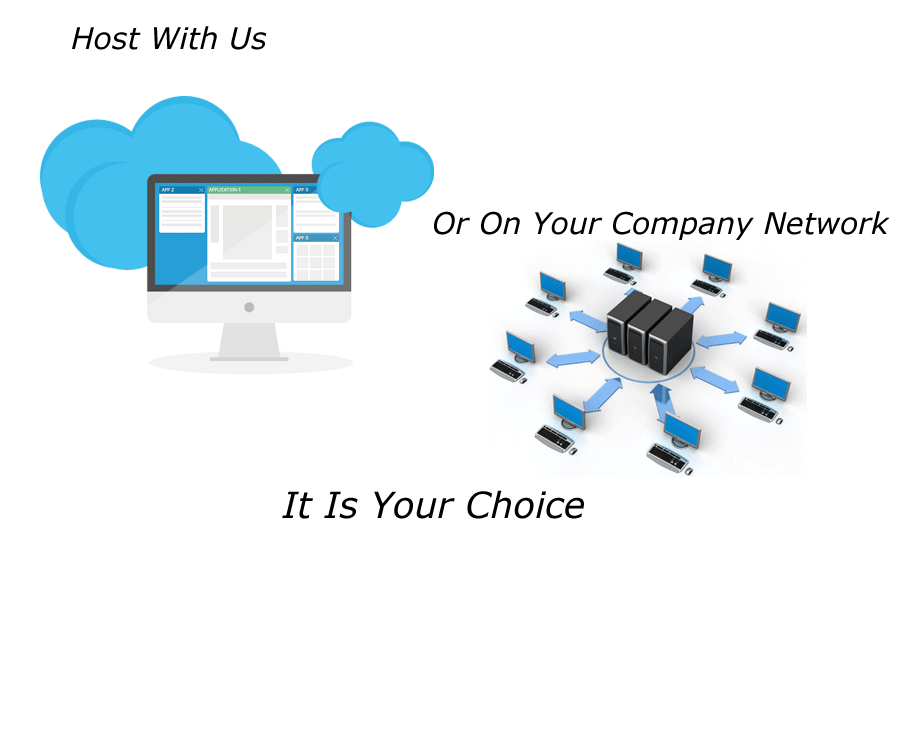 Flexible Hosting Options
Host with us and eliminate all headache connected to software maintenance: server administration, backups, updates. Get software updates and bug fixes automatically as they are released.
Prefer to self host? No problems! If you have a right server and qualified personnel, you can host QR Inventory on your network.